*This post contains affiliate link(s). An affiliate link means I may receive an advertising/referral fee if you make a purchase through my link, without any extra cost to you. You can read more on my affiliate disclosure HERE
Every day we see numerous posts from business owners on public forums looking for information on how to set up a website for their business. Of course, the comments that follow throw out all sorts of platform names like WordPress, Squarespace, Wix, Joomla, etc, but there is never a "how to do it" step by step. 
Whenever we see these posts we ALWAYS recommend WordPress (self-hosted); yes there is a difference between WordPress.com & WordPress.org – but that's a blog post for another day. We try to offer as much help to those looking to set up their own hosted wordpress site, and it does get confusing. Luckily enough we have broken down the process of setting up a hosting account through Bluehost.
Why We Recommend Bluehost if You're Just Getting Started
Having used Bluehost for previous clients before we moved to a server bases platform, Bluehost has provided us, and our clients EXACTLY what they need when their business needs it. As well as for starting business their cost is fairly reasonable, easy to pick a package and support to help when issues arise. Besides personal experience with Bluehost, they also offer the following.
FREE domain for your blog –

 

if you need a domain name take FULL advantage of what they offer, or you can transfer a domain name from another provider!

Affordable rates, as low as $3.95/month – When purchasing more months the rate goes lower and lower. Pick a plan that fits EXACTLY what you need.
Easy & Quick Sing Up –

 

Bluehost makes an easy walkthrough on signing up and getting your site up and going. Our steps help you go through the process in less than 10 minutes.
One-click install WordPress –

 

No need to install WordPress files on your database, WordPress is installed in just one click!
Free SSL Certificate – Bluehost includes a free SSL certificate with EVERY package. This is roughly a $60 value.
24/7 Support – Support is ALWAYS available to help you. If you provide a good description & screenshots on what is going on, this will better your chances of having something solved in a timely manner.
No hidden costs – the entire time while going through setting up a plan, Bluehost provides live pricing.
30 Day Money Back Guarantee – if within 30 days you're not satisfied with their service, you can always get 100% of your money back.
Overal Summary: Bluehost is Risk-Free

Step 1: Plan Selection & Purchasing
If you haven't already, go [HERE], and click on the green GET STARTED NOW BUTTON. The page will look similar to below.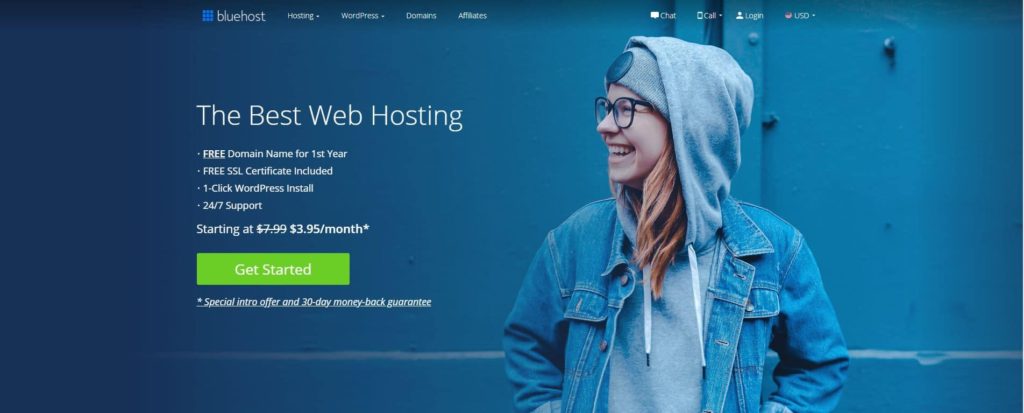 PLAN SELECTION: Select a plan that is sufficient for your business. Basic is perfect for about 90% of businesses. Click the green SELECT button to proceed.
Plus & Choice Plus would be for e-commerce websites with 1000+ products, or a blogger that is posting once a day.
MAKE NOTE: When first signing up for Bluehost, the prices listed are introductory rates. These rates will not be the same after your initial term you select. We highly suggest if you budget allows; to purchase the most months (36) at the this lowest cost. After your term is over, you will then be charged the normal rate.

Bluehost does price packages per month, however you pay "annually".
Step 2: FREE Domain Registration
DOMAIN SELECTION: You'll be asked to either:
A. Enter a new domain name that you have researched, and chosen (along with the extension) – this is Free!
B. Enter a domain name that you currently own. (ie: purchased via GoDaddy, have it on another website platform ie. wix, squarespace etc)
If currently, you don't know a domain you want to use just yet, wait a few seconds and a popup will come up mentioning you don't have to choose right now. KEEP IN MIND this then will set your username to a very hard to remember username that cannot be changed.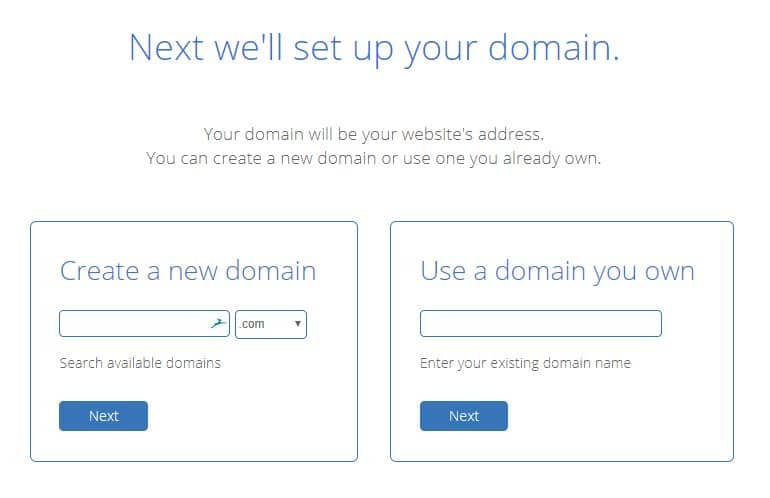 Step 3: Purchase & Finalize
PACKAGE TERM SELECTION: This page you'll enter your Account information, and then select your package term (length), and any extras. The pricing you are signing up for right now is their introductory pricing – this pricing will go back to the normal pricing after the term you select expires. Keep this in mind as if you purchase the 36 month price your first time, that pricing will be good for 3 years!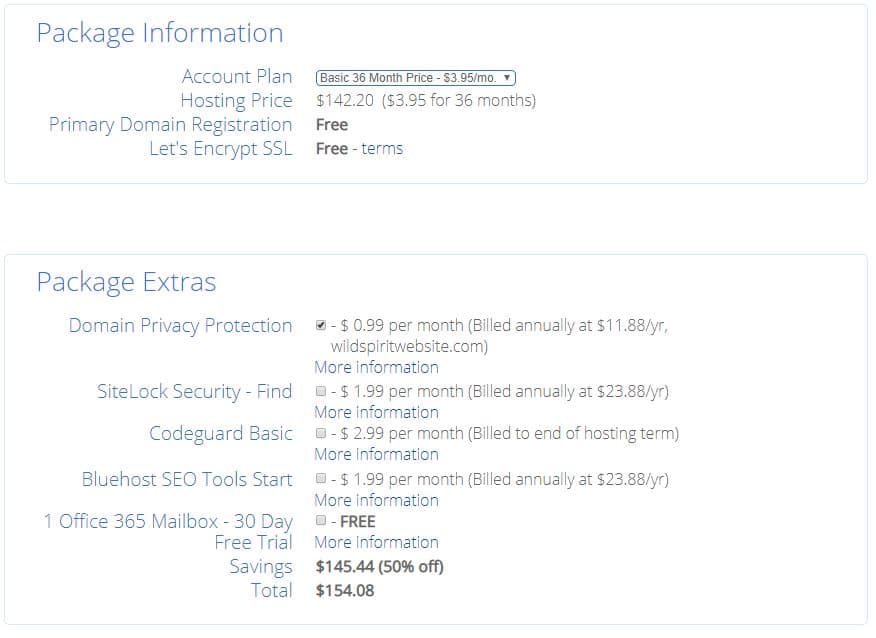 Package Extras: Out of the extras they offer, we only recommend you get the Domain Privacy Protection. This is to keep your account information private and no one can look you up online using your domain. You DO NOT need the SiteLock Security, CodeGuard Basic, SEO Tools, or the Office 365 mailbox.
These plugins will be replaced with other FREE plugins such as Wordfence, Yoast, and UpDraft Plus!
SET PASSWORD: Choose a password for your account. Do NOT make this an easy password, this shouldn't be guessed – and not even resemble a word. We recommend using a program like Last Pass, or Dashlane to maintain your passwords. The harder the password, the harder it is to be hacked.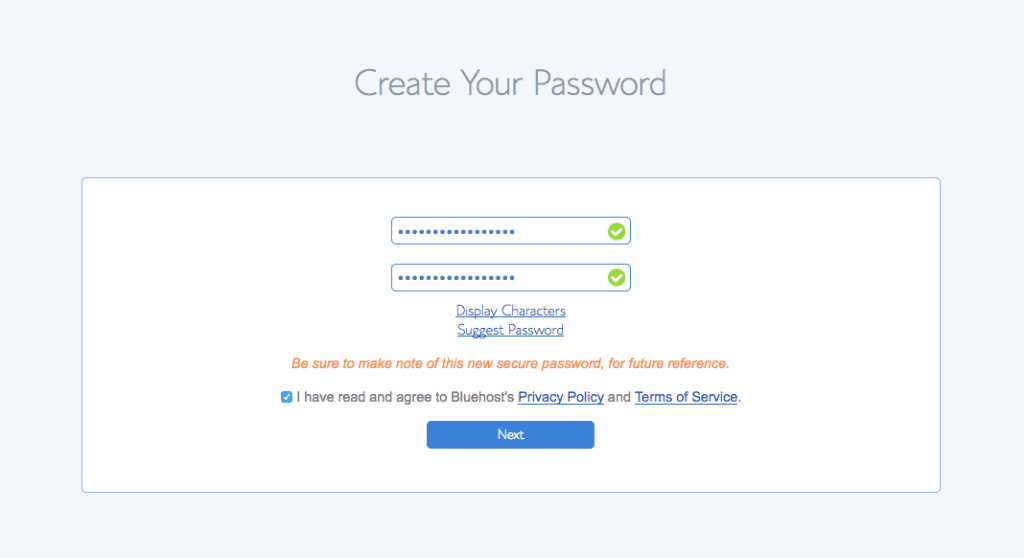 Step 4: Setting Up WordPress
Luckily enough, Bluehost already has WordPress installed – so you do not need to download WordPress Files & upload them. After setting your password you will be directed to picking a theme.
PICKING A THEME: You can select a theme that Bluehost suggests, or if you are using another theme such as Divi, or you're not sure what you want to use you can just click Skip by scrolling to the bottom.
We recommend (and use on our website) is Elementor. Elementor does offer a free version of their plugin, which is great for startups. This builder provides a drag and drop visual builder experience, as well as mobile optimization is made easy. If you need more functionality, Elementor does offer a PRO version as well which includes other perks like premade templates and such. 

NAMING YOUR SITE: Once you've selected your Theme, you will be brought to naming your site. You'll put your business name in the first box, and then your tagline can be anything. This will (for now) be seen in the tab on a window browser – but this can be changed later on with SEO.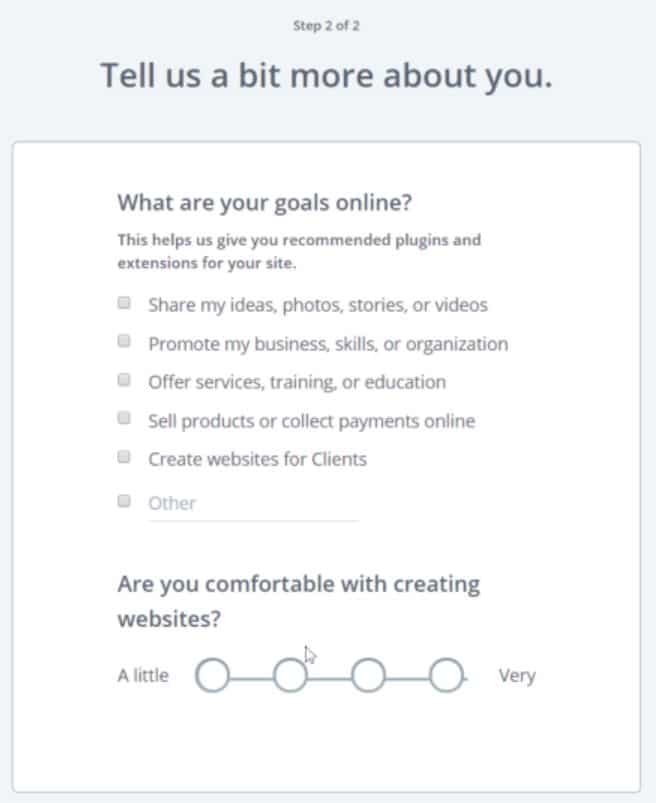 SETUP SITE & BLUEHOST DASHBOARD: This will be your main Dashboard page for Bluehost. They provide you a checklist on what you can do to your site.
To access your WordPress site dashboard, click the blue WORDPRESS button to access.
Congrats! You now have your hosting set up for your new website/blog! This will be an exciting process for you! We are here to help if you need assistance, feel free to drop us a line if you come up with any scans!
If you need inspiration for how you want your website to look, check out some of our inspiration pins on our pinterest
Now that you have your hosting purchased – it's time to put it to work! To make sure you ACTUALLY use your website, I'm offering this BONUS for when you use my referral link! If you used my referral link from anywhere in this course, email [[email protected]] your receipt after you've purchased your hosting and I'll give you access to my Video Tutorial Hub full of 50+ video tutorials on how to use WordPress & then our preferred theme Divi.